Initial impression of Za's was pretty good. It has a solid street presence. But when we entered the restaurant, I was a little disappointed with where we were seated. I kept eyeing the cool back room area that features several large TVs,  a semi-circle bar, and the ambiance of a candle-lit italian dinner (you know what I mean). Maybe you aren't too picky about the atmosphere you eat in, but if you are, ask to be seated in the back room. If you feel like pre-gaming for your pizza, Za's has a decent selection of southwestern themed appetizers including santa fe style crab cakes, zachos, white cheese quesadillas, and chicken enchilada dip. We decided to forgo appetizers and got right to ordering our Za's, so you will have to try them out yourself.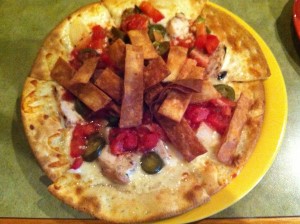 The Santa Fe Za. Grilled lime chicken, caramelized onions, jalapenos, salsa, and mozzarella cheese with tortilla strips to dip in your side of guacamole. This pizza would have been right on the peso if the crust hadn't been so soft and limp. With all the toppings, I really needed a sturdy platform to get the za from the plate to my mouth. Zas got the flavors right, and I loved the side of guacamole that I dipped my crust in, but the chefs really failed to deliver on that brick oven pizza crust.


The Smoked Salmon Za. White sauce, smoked salmon, capers, roasted red peppers, red onions, roasted garlic, smoke gouda, and mozzarella cheese. This za got a great review from its enjoyer. Crust was brick oven baked to a perfect crisp. The flavors of the smoked salmon and capers melded well, and the red peppers, onions, garlic , and gouda were right at home on this flavor train.
Prices were moderate. $8 for an 8″ za and $17 for 14″. Add a dollar for the Shrimp Pesto Za, Nantucket Za, and Napa Za.
Not feeling a pizza? Try some of Za's zoups, zalads, zandiches, zastas, or zones (how fun are these Z's?). Check out the menu before coming in to see if anything gets your whistle wet. Za's is located on Devine St. next to Momo's Bistro and Tabouli, where the Half Moon Outfitter used to be.
We sample that new restaurant down the street so you don't have to, giving you an idea of what culinary treats await you in the Capital City! Team comprised of David Allen and Samantha August
Latest posts by David & Sam (see all)