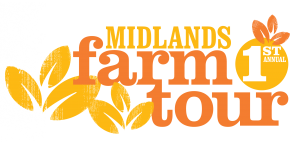 Tour Sustainable Family Farms on Very First Midlands Farm Tour
Meet Columbia-area farmers and tour their scenic and sustainable farms
What?: The first-ever Midlands Farm Tour, sponsored by the Carolina Farm Stewardship Association and Whole Foods Market
When?: Saturday and Sunday, April 6-7, 2013 from 1:00-5:00 PM both days
Where?: 10 scenic and sustainable working farms in Richland, Lexington, and Kershaw counties
Who?: Great fun for families, foodies and folks looking to spend a day out in the country learning where their food comes from
Cost?: Tour tickets, good for both days, are $25 per vehicle in advance. Tickets are available for purchase during the tour for $30 or you can also choose to pay $10 per farm (available for purchase at all of the farms during the tour). Groups of cycles count as one vehicle.
Tickets can be purchased online at www.carolinafarmstewards.org/mft/ or at Whole Foods Market or City Roots Farm in Columbia.
More information?: Complete information about the tour and the farms, with interactive maps and driving directions to each farm, plus tour tickets are available at www.carolinafarmstewards.org/mft/. 
The tour, sponsored by the Carolina Farm Stewardship Association and Whole Foods Market, features 10 farms.See lots of cute baby farm animals, including baby chicks, pigs and goats.  Learn how they grow vegetables, fruits, flowers, mushrooms and more without harmful pesticides.  And, teach your children where their food comes from, play fun farm games, and more!
The tour is self-guided. Choose the farms you want to visit on the interactive map or downloadable brochure athttp://www.carolinafarmstewards.org/mft/ to plan your tour. Visit any farm in any order. No pets allowed. The tour is rain or shine.
And, don't forget to take a cooler so that you can bring home some of the farm fresh products for sale at many farms!
Proceeds from the tour support the work of the Carolina Farm Stewardship Association.
# # #
The
Carolina Farm Stewardship Association helps people grow and eat local, organic food by advocating for fair farm and food policies, building the systems family farms need to thrive, and educating communities about local, organic farming.  www.carolinafarmstewards.org
Thank you to Whole Foods Market for sponsoring this tour.
We sample that new restaurant down the street so you don't have to, giving you an idea of what culinary treats await you in the Capital City! Team comprised of David Allen and Samantha August
Latest posts by David & Sam (see all)