The Publick House is that awesome pub down the street that everyone wished they had within stumbling distance of home. A great pub atmosphere is created by the dim rustic lighting and wooden tables around the perimeter. There are plenty of large TVs to keep customers happy during football season, and there is also a large selection of beers on tap to help celebrate each and every Gamecock win. Enjoy a side of competition with your pint? Challenge your friends to a game of darts or grab some pool cues. If that sets your goose loose, the Publick House is here to satisfy your inner athlete with a couple of bar games and beer. Its also the place to get you wing fix. These wings are good!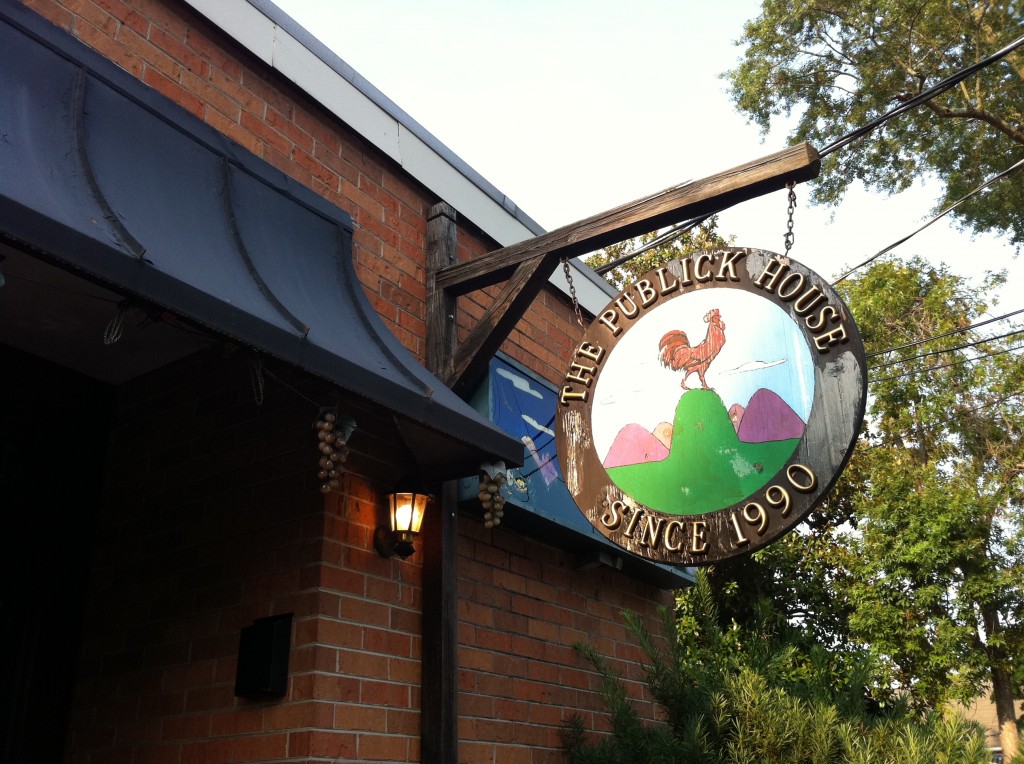 We started off our sampling of the pub fare with the fried mushrooms. Initially, these were satisfying to dip in our sides of marinara and ranch. But as our appetite dwindled and our taste buds perked up, the crunchy yet watery mouthful of mushroom lost its appeal. Thankfully, we had our order in for these Publick House wings that my friends and I had heard so much about. We ordered the pterodactyl, spicy teryaki, and lemon pepper wings.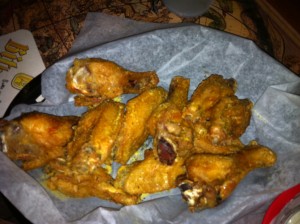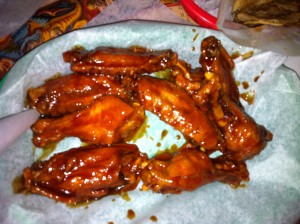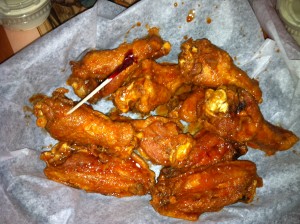 Introducing the pterodactyle, spicy teryaki, and lemon pepper. They aren't much to look at now, but believe me, these were fantastic. The pterodactyl is a combination of barbecue and teriyaki, the others are self explanatory. Pair your selection of wings with the Publick House raw chips, and you have yourself a satisfying munch to enjoy with your pint. The raw chips were delicious. These were delivered hot out of the fryer by our attentive waitress. The chips had a great temperature, and that subtle crunch that we were looking for to accompany our wings. Now you are going to think Im crazy, but one of the things I really enjoyed about our meal was the celery (I told you) that came with the wings. So refreshing and crisp! I think this is something that is missed by your average wing-focused bar/restaurant. What a great complement to my delicious wings! The wings packed a flavorful crunch and a moist center. The pterodactyl was the sauciest of the bunch, the spicy teriyaki wings had a moderate spice and were less saucy, and the lemon pepper wings were dressed in a dry rub. My favorite was easily the pterodactyl, but everyone in our party had their own preference, so go find yours!
The Publick House is located on Devine St. on the outskirts of Five Points. The service was great and we never found ourselves waiting for a refill. Prices were typical of a wing bar and parking was plentiful on Devine St. and around back. Come on in for that neighborhood pub atmosphere and great wings! Just another one of those Columbia, SC restaurants that we can't wait to go back and enjoy.
We sample that new restaurant down the street so you don't have to, giving you an idea of what culinary treats await you in the Capital City! Team comprised of David Allen and Samantha August
Latest posts by David & Sam (see all)