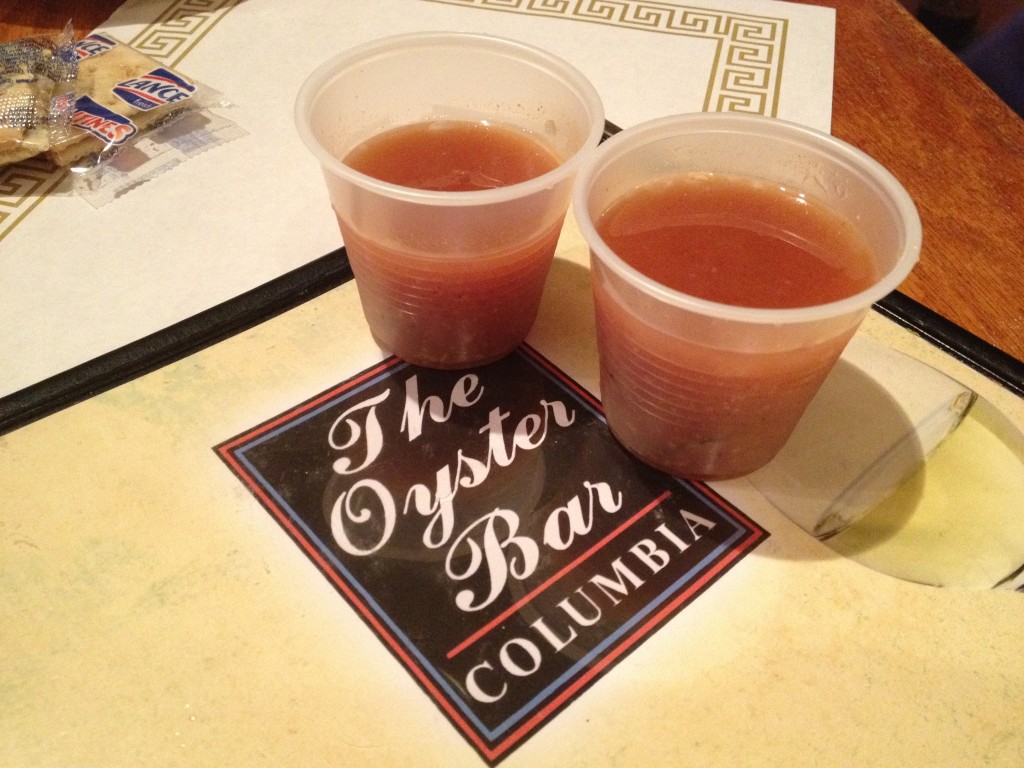 Thank you Columbia Dealsaver! For $10, us here at Capital City Eatz got $20 to spend at a great new find for us, The Oyster Bar. Locally owned and operated by a former South Carolina business student, The Oyster Bar is a great place to unwind and shoot back a few shots of good-ol-fashion fun. We started off with some oyster shooters (first timers here) and with fingers crossed, we downed the deliciously odd combination of spice, tomato, oyster, and vodka. Party. Started.
This place is GREAT for a first date. You hardly have to talk. Just point, smile, and laugh at all the action that is going on around you. Then you can clam-up, knock back some oyster shooters, and pinch, pull, and pop those delicious cajun crawfish tails in your mouth (don't forget to suck the head!).
The Oyster Bar reminds me of a mullet (very appropriate analogy for a seafood restaurant). Business in the front. Party in the back. Come in and relax at the front bar and enjoy the dark features and dim lighting of the front room. Take a gander at the beautifully hand-painted low-country landscape paintings adorning the walls. Feeling a little lively? Make your way to the back room and pull up a seat to a front row view of the fastest shuckers in the east. Order up a peck of oysters and wait for the shuckers to deliver a bucket full of gulf coast flavor. Who knew something so unappetizing to the eye would be so enjoyable to the palate? They even do things a little differently with their cocktail sauce – it's made fresh every day and then served hot from a tea kettle, and WOW is it good. Oyster, saltine, a drizzle of cocktail sauce..Zinggg! Delicious!
Behold! The Beaufort Basket, a delicious southern tradition. Whether you call it frogmore stew, low country boil, or the beaufort basket, most versions of this low-country classic combine shrimp, sausage, potatoes, crawfish, corn, and old bay into a savory serving of seafare and veggies. That's good eating, ya'll.
The Oyster Bar and its signature "Mother Shucker" cocktail sauce is located on Park St in the Vista. If you have a hankering for a good time and great Gulf Coast cuisine, get on down to the Oyster Bar to experience the "Pearl of the Vista," ya hear?
We sample that new restaurant down the street so you don't have to, giving you an idea of what culinary treats await you in the Capital City! Team comprised of David Allen and Samantha August
Latest posts by David & Sam (see all)