Although there were a few discrepancies between the online menu and in-restaurant appetizer menu (a fact that I am particularly bitter about because of the absence of the crawfish boudin balls), the crab cakes were satisfying enough to tempt even the snobbiest Charlestonean palate. In short, these were quite good. Price range for appetizers was $7-12.
Lucky for us (and by us I mean myself, of course, and the beautiful young lady who is co-authoring this post), there is a free wine tasting every Wednesday at 6. Being the fledgling wine enthusiasts that we are, and fortified with the notion that free wine always tastes better, the first bottle was delightful. Better than any Yellow Tail or (insert any sub-$10 wine brand) that we have sampled thus far. Of course, to my great embarrassment, this bottle was considered frightening to the nose and even worse to the mouth. On to the next bottle. Green apple! Chocolate and a tease of vanilla, of course. Perhaps a hint of rose petals. Yes, I certainly agree, the tannin of this bottle is undesirable. A dry finish you say? I would have to concur. And with a wonderfully dizzy head, back to the table for the enjoyable task of ordering an entree.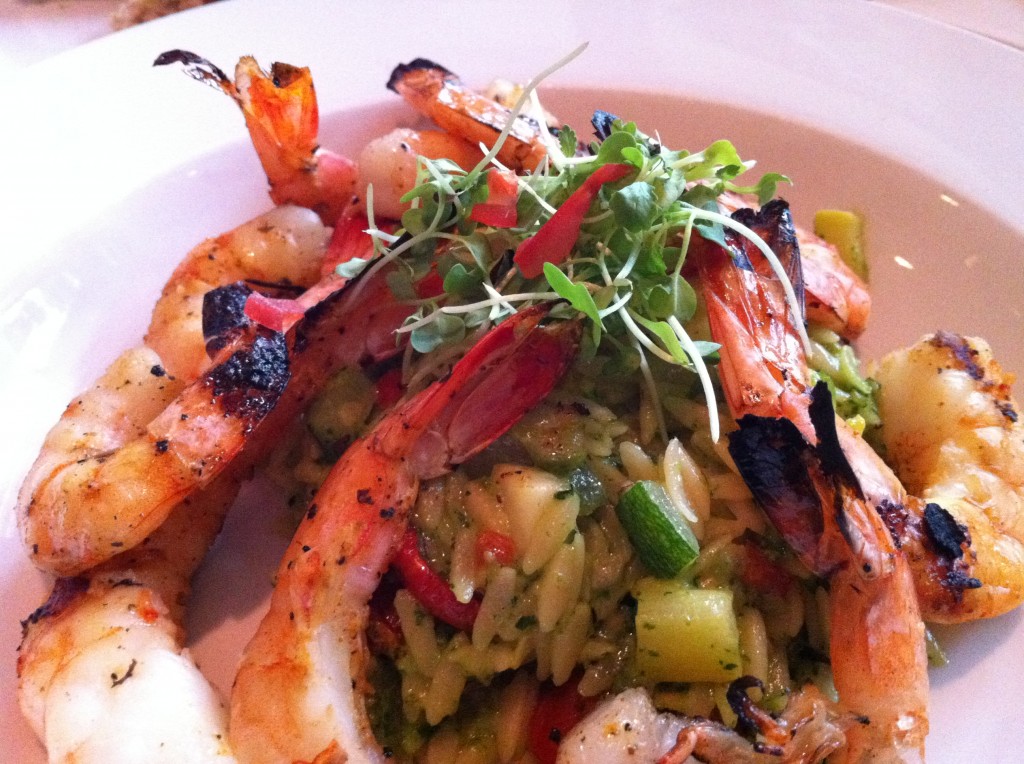 The grilled shrimp with orzo pasta. This was a fantastic dish. The shrimp was well seasoned and grilled to a perfect texture. The orzo was just as much a star of the dish as the shrimp. A melody of appropriate vegetables could be found in each bite of the pesto green orzo. This dish was priced as one of the lower end entrees, $18.
Apparently the Osso Bucco just screams "MAN!" because I actually ordered the grilled shrimp with pasta and my date ordered the braised pork osso bucco, but the pork was placed in front of me. Maybe the waitress remembered, maybe she didn't (the service really was good). I don't know. But while I eyed that huge hunk of braised pork, glistening with that delicious sweet succulent glaze, I silently thanked our waitress. The osso bucco was topped with crispy fried red onions and surrounded by collards and lightly seasoned roasted potatoes. All of this wading in the juices of the braised pork. I will be back for this one. This entree was priced at $18.
We thoroughly enjoyed our experience at Momo's Bistro. The service and food were exceptional and parking was a non-issue. The open room would be perfect for a large group and there is also a covered outdoor patio that would have been quite nice had it not been July in Columbia, SC. We will definitely be back again, but not for a while. There are plenty of other gems to sample in the Capital City.
You can view the restaurant's website here.
We sample that new restaurant down the street so you don't have to, giving you an idea of what culinary treats await you in the Capital City! Team comprised of David Allen and Samantha August
Latest posts by David & Sam (see all)