Mezza Lebanese Bistro and Hookah Bar. Ever find yourself hankering for some hookah? Maybe you just need a drink to take the edge off. Regardless of what your vice is, feel better about these "unhealthy" habits and pair a little intoxication with some Lebanese cuisine.  Apparently mediterranean food is good for you, so it all cancels out, right?
Warm pitas with a mixture of dried thyme, roasted sesame seeds and olive oil for dipping. You might think that pitas and spiced olive oil make a poor substitute for good ol' bread and butter, but give it a chance. The thyme truly tickles your tastebuds as the subtle taste of olive coats your mouth. Delicious. This tasty starter is complimentary to folks joining Mezza for dinner.
Vegetarian grape leaves. Hand-rolled grape leaves stuffed with rice, tomato, onions and parsley. Served with pickled beet (I think) and lemon slices. Are you one of the those people who stops listening after "vegetarian?" Well, you are missing out on a lot of delicious dishes. This one right here? It's good.
Tabbouli. Parsley, cracked wheat, tomatoes, onions, and mint mixed with olive oil and lemon juice. Very resfreshing. Also ordered a side of Mezza potato cilantro: fried, diced potato garnished with cilantro, garlic, olive oil. Only after re-examining the menu did we realize our mistake. Ever heard of "Kibbeh Balls?" No? Well listen up. Two cone shaped croquettes of Angus brown beef mixed with cracked wheat and stuffed with seasoned Angus ground beef, ground lamb, onions and nuts (Deep fried). Wow. Thats a meal fit to be served at the South Carolina State Fair.
Manakish Cheese, a mediterranean style pizza. Quite different from its Italian cousin, but excellent all the same.  Oven-baked and topped with a mix of mozzarella cheese, Akawi cheese, spices and a hint of pesto.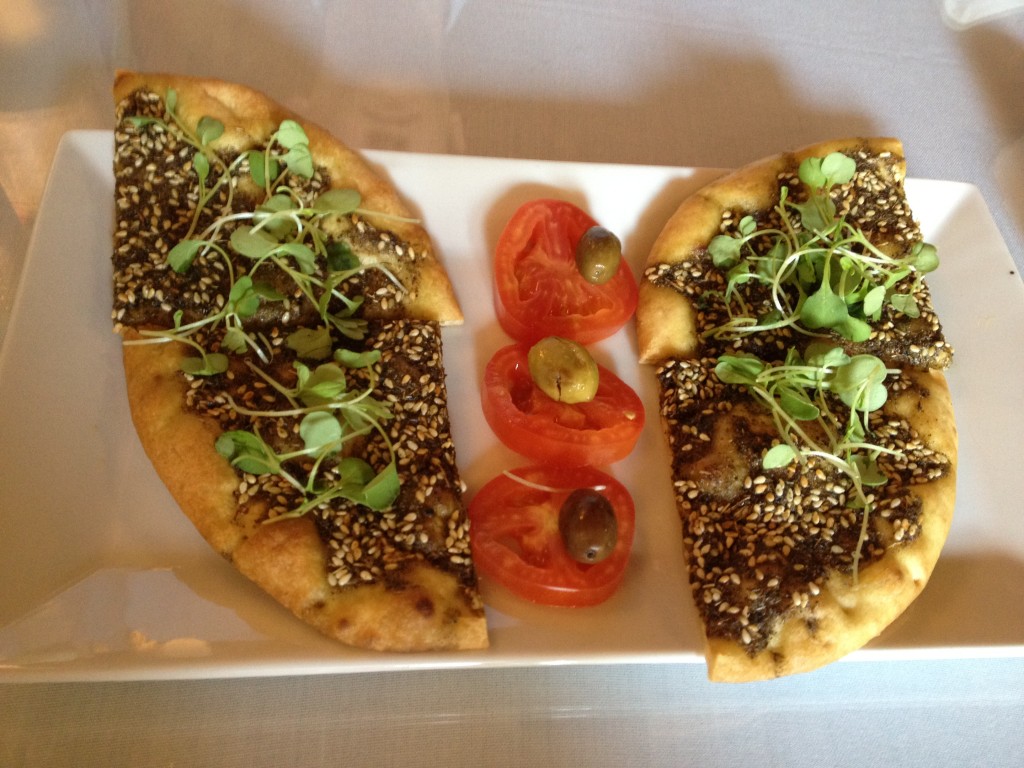 Manakish Zaatar. Oven-baked dough topped with dried thyme, roasted sesame seeds and olive oil. Much like the appetizer featured above, but with the price tag of an entree. The dried thyme, sesame seed, and olive oil is a flavor combination that you may have not explored, but after a taste, it's something you will want to try again.
Mezza is delicious, no doubt, but it is slightly on the expensive side for the amount of food. There is a ton of flavor packed into each dish, but for a foodie with an appetite, the $/food ratio may not be the best. Located in the Vista. Check out there menu here. Decent service, cool interior, great fresh food. Definitely worthy of a taste.
We sample that new restaurant down the street so you don't have to, giving you an idea of what culinary treats await you in the Capital City! Team comprised of David Allen and Samantha August
Latest posts by David & Sam (see all)