Are you a maturing collegiate looking for like-minded fellows to share an enlightened conversation with? Maybe you enjoy the notion of a game of shuffleboard without the lingering fear of a freshman spilling a poorly managed night of indulgence on you? Perhaps you are a young professional looking for some casual networking opportunities over a refreshing pint?
If  you enjoy pairing your nights revelries with intoxicating conversation with other interesting contemporaries, you need to check this place out. Jakes Bar & Grill seems to cater to a crowd of twenty and thirty-something's. Its the kind of bar that won't leave you feeling uncomfortable at the sight of obviously under-aged kids.
Now we enjoy a resfreshing pint or two (or three) as much as the next fellow, but we were really checking out Jake's Bar & Grill for the food. Specifically, the pizza.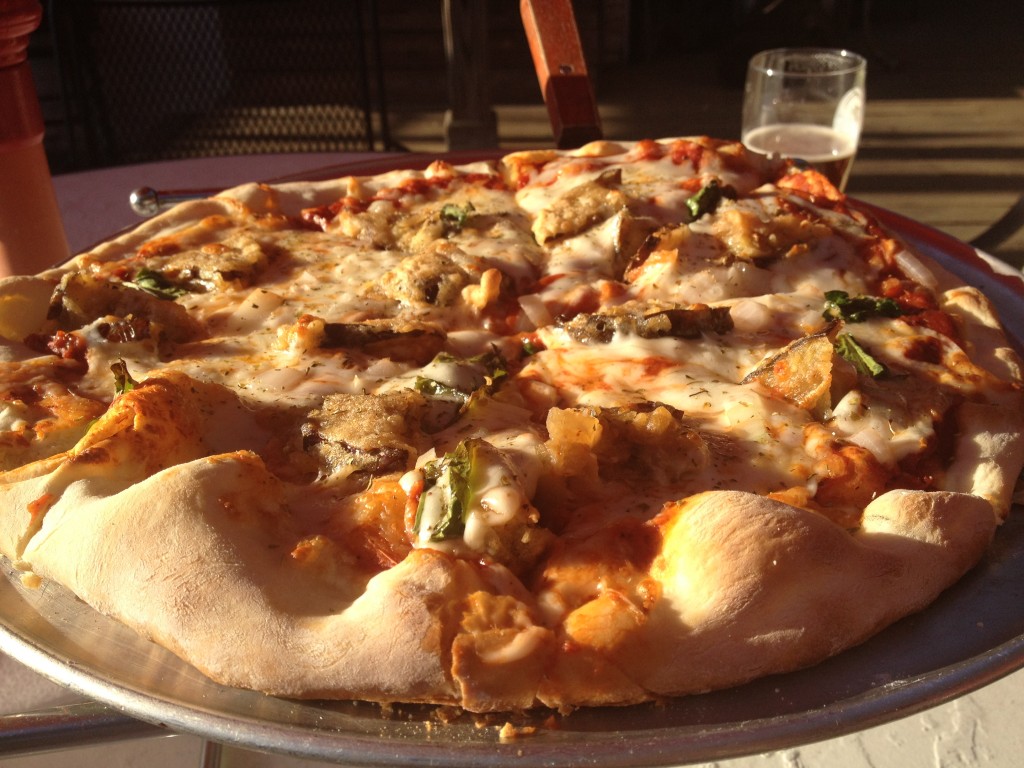 The Eggplant Diva. Fried eggplant and other complementary toppings. Time for your close-up, Eggplant Diva.
Mmmm, pizza close-up. Fried eggplant, caramelized onions, green peppers, and a light sprinkling of oregano to top it off.  Some highlights: nice cheese- to-sauce ratio and crispy-enough-crust make this a pleasing pie.
We also ordered some free-range, cruelty-free lemon-pepper wings, but their lack of photogenic-ness (or our lack of photography skills) lost them a spot in this post. They were quite good, but we'll go for something saucier next time.
Food was satisfying, let's look at some other perks of Jake's Bar & Grill:
Live Music
Large outdoor deck area. Complete with fountain, bar, bathroom, and stage
Menu featuring local produce
Over 30 beers on tap
Shuffleboard, pool tables, arcade games
We HIGHLY recommend the food at Jake's Bar & Grill. Order with your bartender and enjoy a cold one or a get generous with a round of shots for the table while you wait! Proper respect to Jake's for including local produce and free-range chicken on their menu!
We sample that new restaurant down the street so you don't have to, giving you an idea of what culinary treats await you in the Capital City! Team comprised of David Allen and Samantha August
Latest posts by David & Sam (see all)