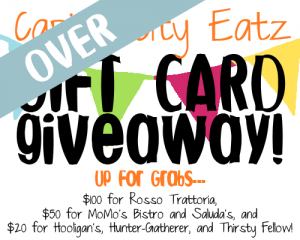 To show appreciation for all of our wonderful and loyal followers and celebrate this famously hot Columbia weather, we are doing a giftcard giveaway! There are 6 giftcards up for grabs. The first giftcard ($100) and our top prize is from Rosso Trattoria- you can read our post about this fine establishment here. The second place giftcards ($50) are from Momo's Bistro on Devine Street and Saluda's in Five Points, and the third ($20) are from the Thirsty Fellow, Hunter-Gatherer Brewery and Ale House, and Hooligan's! We hope you are as excited as we are! To enter, please do the following:
Retweet a tweet about this giveaway on Twitter*
Share this giveaway on Facebook*
Subscribe to our email list (top right of site or at the bottom of this post)
Leave a comment on this post with feedback about our site. This can be anything, just keep it CCE related.
*for those who do not use twitter/Facebook, please share via email with at least 5 people (and BCC us so we know who you are!)
To gain extra entries and more more chances to win (up to 3 extra entries, only 1 giftcard/person), you can:
Follow us on Twitter
Like our page on Facebook
Comment on another post
Follow us on Instagram (@capitalcityeatz)
Donate to our Homeworks of America- Peru Trip Fundraiser
When you comment on this post, in addition to your feedback, please let us know which other forms of entries you completed so we make sure we have them all! We cannot enter you if you do not comment on this post. We will announce a winner at noon on Friday, April 13th! Good luck!
Email Signup
*We do not post more than 2 times a week. Usually only once! We never send out spam.
We sample that new restaurant down the street so you don't have to, giving you an idea of what culinary treats await you in the Capital City! Team comprised of David Allen and Samantha August
Latest posts by David & Sam (see all)