If you understand the words "Barclays," "Dempsey" and "Concacaf," then Cock n' Bull Pub & Grill is the place for you. With a new location and 21 deliciously refreshing domestic and imports on tap, this British-inspired pub is proven to be the best place to pull up a seat next to a stranger and enjoy the fútbol matches playing on one of the large flatscreen conveniently displayed around the Rosewood home-turned-pub.
The service certainly matched the level of soccer play (or far exceeded if you are talking about Wolverhampton). The waitress made sure our drinks were full and our tab was paid quickly and seamlessly. The first time we visited, sun and fresh air was pouring into the pub through an open door on a balmy leap day in February. Couldn't have imagined a better atmosphere to watch the game, with cheers and camaraderie echoing in the background.
After our first visit which was strictly social with no fare, we had to go back for a taste…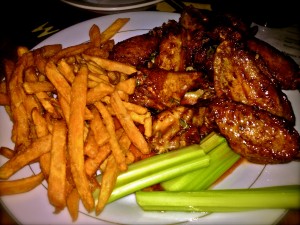 …and couldn't resist the signature sweet and spicy Tavern Wings. These must have been good, for my strapping date seemed to skip the digesting and inhaled them almost in an instant.
For myself, I decided on the Oyster Po' Boy. The crispiness of the breaded oysters and exterior of the roll was a delectable contrast to the softness of the oysters and tomatoes. The roumelade that was missed in the first bite resurfaced on the second, and added a dulcet taste to the Po' Boy that left me already looking forward to the next bit.
The English-inspired Pub & Grill, located in the heart of Rosewood, boasts some unbeatable specials that would pair perfectly with the lastest soccer match. These specials include "8 Buck Lunch" on Mon-Sat for an entree, side and soda/tea for $8. They also offer $3 mimosas on Sundays and for those not as comfortable with drinking the oh so girliest of morning drinks, they also offer $4.50 manmosas. If Sunday Funday didn't do you in, every Monday is Pint Night- $3 pints all day!
We sample that new restaurant down the street so you don't have to, giving you an idea of what culinary treats await you in the Capital City! Team comprised of David Allen and Samantha August
Latest posts by David & Sam (see all)